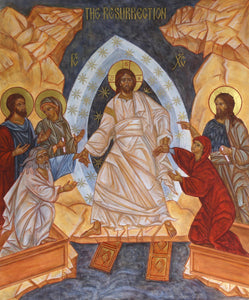 Icon of the Resurrection
Regular price $20.00 Sale
Resurrection (Anastasis in Greek) literally means "to stand up" or "rise again."  Jesus Christ (center), has risen from the dead in his glorified body and true identity as second person of the Holy Trinity.  That he is part of the Godhead, Father, Son and Holy Spirit, is depicted by the blue, almond-shaped mandorla that surrounds him.
Jesus stands between 2 worlds – Heaven above and death below.  Under his feet are the doors of Hell, which he has broken through.  With great momentum, he is pulling Adam and Eve out of their graves and into divinity with him.  The figures on the right and left of Christ are the Righteous who witness to Christ's Resurrection.  They are represented by the Prophet Isaiah and Prophetess Anna on the left and John the Baptist on the right.
 Christ has Truly Risen. His resurrection is the in-breaking of divinity into our world of sin in order to redeem and transform it. Christ's resurrection is for us. He makes us his own by pulling us into his very life in the Trinity.
 The one who descended is also the one who ascended far above all the heavens, that he might fill all things.(Ephesians 4:10)
This is an acid free print of an icon originally painted through the hand of Sr Suzanne, Redwoods Monastery, Whitethorn, CA.
Dimensions:  Print 8" x 10"   Matted: 11"x 14"