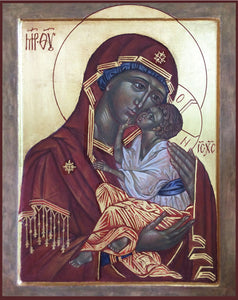 Black Madonna of Compassion
Regular price $20.00 Sale
I am black and beautiful – (Song of Songs 1:5 NAB)
Dating from the 12th to the 15th century, statues of the Black Madonna made of wood and stone appear in monasteries and churches throughout Europe. Approximately 450 authentic Black Madonnas are dated from this period. At the same time, Black Madonnas appear in iconography of the Christian East in Russia, the Balkans and Poland. Most famous are Our Lady of Częstochowa and Our Lady of Kazan. 
Today the Black Madonna points the way to an evermore interracial and multicultural church. She is our guide and advocate to healing racial divisions and prejudices that afflict our society. In her dignity, she teaches that Black, Brown, Red, Yellow, and White are all truly beautiful!
This is an acid free print of an icon originally painted through the hand of Sr Suzanne, Redwoods Monastery, Whitethorn, CA
Dimensions:  Print 8" x 10"   Matted: 11"x 14"