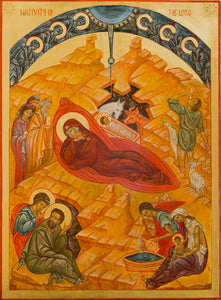 The Nativity
Regular price $20.00 Sale
The Nativity of Jesus Christ according to Saint Luke:
Suddenly a great company of the heavenly host appeared with the angel, praising God and saying,
"Glory to God in the highest heaven, and on earth peace to those on whom his favor rests."

The Festal Icon of the Nativity depicts all the events in the Gospel narrative.  The Mother of God is central and behind her is Jesus who was born in a cave that functions as a stable. Angels are above and the shepherds announce the birth.  Jesus came as food for His people and to liberate the poor. 

This is an acid free print of an icon originally painted through the hand of Sr Suzanne, Redwoods Monastery, Whitethorn, CA
Dimensions:  Print 8" x 10"   Matted: 11"x 14"