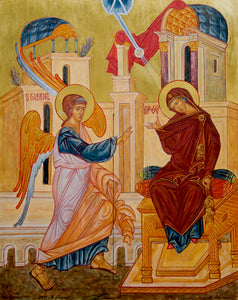 The Annunciation
Regular price $20.00 Sale
In this icon, the Angel Gabriel is sent from God to Mary and brings her the Good News; she is to conceive and bear a child. At first Mary is "greatly troubled and ponders what sort of greeting this may be" (Luke 1:29). But Gabriel eventually wins her over. She gives her fiat, her "yes" that will usher in a new age in salvation history. The icon illustrates this by the outstretched hand of Mary welcoming the Angel. In her right hand there is a red thread and her left is holding a shuttle. Mary is weaving the seamless garment that symbolizes Christ's flesh. This is an icon of joy and fulfillment as the messenger of heaven greets humanity with news of the Incarnation – the God-Man of the new creation. 
This is an acid free print of an icon originally painted through the hand of Sr Suzanne, Redwoods Monastery, Whitethorn, CA.
Dimensions:  Print 8" x 10"   Matted: 11"x 14"