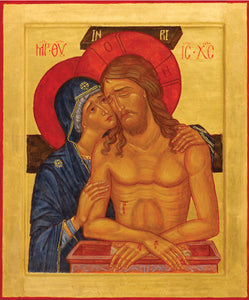 Mother Do Not Mourn For Me
Regular price $20.00 Sale
This pieta depicts Christ's entombment as the Mother of God holds on to him. There is a tension between surrender and embrace, these movements occurring within the framework of the deep love and bond of mother and son. The Blessed Mother holds on to her only Son as he hands over his life for the salvation of the world.   The icon is traditionally used in Holy Saturday liturgy and is offered for anyone who mourns the death of a loved one. 
This is an acid free print of an icon originally painted through the hand of Sr Suzanne, Redwoods Monastery, Whitethorn, CA
Dimensions:  Print 8" x 10"   Matted: 11"x 14"